I mentioned on this week's podcast that I probably won't be able to do a consecutive review of the sequel for Ef~ A Tale of Memories since I have not yet seen it. However, I have watched this one, and I'll at least do a review of it. I'll critique the second series later, because I must note that while Ef~ A Tale of Memories may be what started it all, Ef~ A Tale of Melodies isn't what finishes it. It is a prequel/sequel instead, and thus I haven't decided whether to link the two reviews together.. Anyhow without further ado, here it is:
Ef~ A Tale of Memories
Director: Shin Onuma
Studio: Shaft
Episodes: 12
Year: 2007
Genre: Drama, Psychological, Romance
Another visual novel adaptation, but instead of being from Key (Air, Clannad, Kanon), this one is from Minori. Ef~ A Tale of Memories weaves the stories of different individuals in a high school setting. It follows the story of two protagonists, or maybe three? They are Hiro, Renji and maybe Kyosuke…. We get to meet the girls as well; Miyako, Kei, and Chihiro, as well as their respective stories. We find out from what seems to be a rather uninspired story with dull and boring characters, that as they get to learn and discover "secrets" about each other and themselves through their interactions, a tale of memories and longing begins to unfold.
The stories of these characters in another "high school" setting intertwine with one another and make this (believe it or not) a very commendable title. By now it's obvious that another story about high school students and their love lives doesn't sound even remotely interesting. It has been explored too much, making it some usual romantic comedy "fluff". Well, something does make this "Tale of Memories" stand apart, and that is many of its positive attributes.
The animation here is lush, gentle, dynamic, and sharp. The way it changes styles that adds a certain depth and meaning to a scene is fantastic. The animation at certain points changed in order to match the mood of the characters, and this reminded me of Hideaki Anno's experimental directorial style as seen in Evangelion (I shorten it every time), and Kare Kano. For instance, Renji asks his neighbor (the ever comprehensive, Kuze-san), into allowing to borrow a school girl's uniform for his girlfriend and he gets a response one would expect from a healthy and smooth "ladies' man".
This in turn makes Renji embarrassed and to display this, the animation here changes to pop art with pink-colored bubbles. Also when the characters are confronting one another, especially the fights that later ensue between Kei and Miyako; the animation and art direction changes to dark and uses limited lighting to give this sort of "interrogative" feel to it. Shin Onuma (the director) has proven himself as a more-than-worthy storyteller with this series, being this his first time taking the director's seat. Onuma's tricks enhance the look of this anime, which is phenomenal already because the art direction is dazzling and [the scenery] looks quite European.
Since the animation is heavily dynamic in some episodes (most notably 6 and I believe 9…), this gives a very Hitchcock-ian (if that's even a word) approach. This can also be attested by paying attention to the shifting perspectives in Chihiro's tale, which sometimes made it seem like a seductive psychological thriller and these arrived like a godsend, because this anime was beginning to feel like a chore to follow as the story went along. This isn't good news, as it starts very slowly though be patient; your efforts will be paid off in the end.
At the beginning, the series doesn't really manage to get a hold of anybody's particular interests and instead makes the characters seem flat and generic. Although in the meantime Tenmon's piano-heavy score (he composed 5 Centimeters per Second and has worked with Minori in the past) is such a beauty to behold.
It is such a meek and gentle concert composed of romantic sonatas that sometimes will attract fans of the romance genre. It really did add a whole lot to the emotions displayed and made them more intense and sincere for the viewer.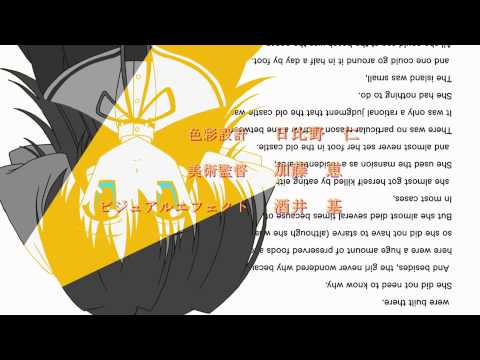 The opening theme called "Euphoric Field" may be where the words "EF" in the title come from, but regardless the opening theme is absolutely astonishing! The song is in English and there is Japanese version, but the English one is slightly better because it's more expressive, even if isn't performer Elisa's first language. Anyhow, it is a song that not only fits the anime almost perfectly but it is very emotional and sincere, it's like you can feel the emotions the lyrics are trying to relate, it is unreal. There are a bunch of ending themes and all are quite nice to listen to, because they are relaxing, though the opening is definitely the gold. Much praise to Tenmon and Elisa for their phenomenal work in the opening song.
Another one (aside from its slow pacing at the beginning) of its great weaknesses found here lies in its length, or perhaps could be its source material. Because one out of all of the stories here is not very well explored. Kei and Kyosuke's respectively was barely covered. It leaves them behind the scenes for the most part. We would have been more involved and attached to them if they would have perhaps expanded the series a few more episodes in order to explore more of both stories. In those episodes the studio Shaft could have also expanded on the backgrounds of Yuko Amamiya; a beautiful maiden resembling the virgin Mary as she's usually in a chapel and Yu Himura; a mysterious yet gifted violinist who is heavily linked to Yuko and the main characters. I realize both of their roles in the visual novel were also minimal but still… A bit more insight would have been nice, though I've come to know that Ef~ A Tale of Melodies expands on both of their stories.
Once finished, this series has some very interesting similarities to Kanon from Key as one will notice. Both revolve around memory, pain and loss, and even the themes of miracles. Very similar indeed, as miracles play a huge part at the end of the tale, and in fact have a lot to do with the ending itself. The story however, unlike Kanon does not manage to tie up everything together and leaves the ends loose. It always opens the possibility of a potential sequel and would actually not be hasty to discard since Minori has already released the sequel to Ef~ A Tale of Two which is what this show is based on called Ef~ The Latter Tale expanding on where the story leaves off.
The final quality this show has is heart. And a lot of it. This is what truly made it so endearing. At the ending you expect a tragedy but instead you get the opposite, and after seeing the amounts of suffering and tribulation these individuals are put through, you won't want a tragic ending but you sense it. Fortunately, it doesn't happen and everyone gets a second chance to start over a new leaf, and believe this: when this happens, you just might feel a big and uncomfortable, but reassuring lump in your throat, and you even might shed a tear or two. It's that moving and "feel-good", though it takes a while to arrive there so just be patient.