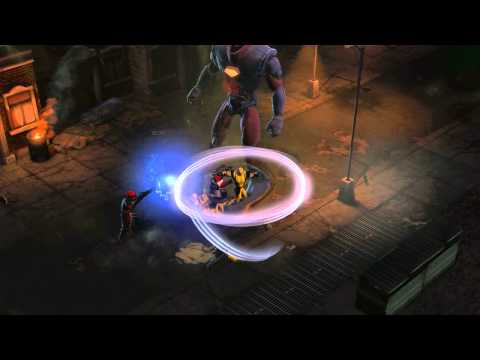 Diablo 3 server issues giving you the blues? Loved the Avengers but not interested in it's upcoming family friendly Kinect/Wii U spin-off? Well you're in luck, as Gazillion Games has released this first look at their new superhero MMO, Marvel Heroes. Originally called Marvel Universe, this free-to-play online game will feature over 8000 Marvel heroes and villains. So now can you play as your favorites like Ant-Man, Man-Thing, and my personal favorite: Amadeus Cho! His superpower is Math and he has a pet baby wolf… BADASS.
While it seems like you won't be able to actually create your own heroes (bummer), you'll still be able to customize the appearance and abilities of the established Marvel ones. And if you're wondering about the game's storyline, don't fret. It's being handled by Brian Michael Bendis who has worked on popular hits like the New Avengers and the Secret Invasion series. And to sweeten the deal, the game is also being worked on by Blizzard North co-founder and lead designer for Diablo 2, David Brevik.
Seems like one hell of combination of talent behind this game, but we'll see if it actually becomes successful. The free-to-play MMO market is incredibly crowded these days, but having the Marvel license behind it might just give Marvel Heroes the push it needs to really take off. The gameplay looks like it could be quite fun too, so I'm hoping this turns out good. What do you guys think? Does Marvel Heroes tickle your fancy?
Source: Destructoid, Official Site