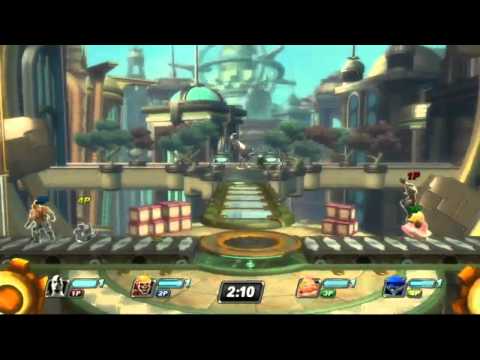 The second game showcased at Sony's E3 press conference this year was the game we've all been waiting for [right?], and that is Playstation All-Stars! Chan Park and Omar Kendall from Superbot Entertainment. Both introduce four players who'll rumble in the jungle and then some. In the video above we see Fat Princess, Sweet Tooth, Sly Cooper, and Kratos. Cross-play between the Vita and the PS3 is confirmed.
In fact, two players are playing on the PS3 and the other two are on the Vita. Hmm… Now there are special powers that unleash these "super" moves which look like Final Smashes. The games strikes me as awfully familiar already… but I won't say more. You watch and you judge!
Also, don't read if you don't like spoilers… Nathan Drake and Big Daddy (from Bioshock) are confirmed for it!
[UPDATE]
Sony has released an official trailer for the game on their Youtube channel, and the video actually was tagged under "Super Smash Bros," Super Smash Brothers," and "SSBB." Sony however, upon realizing the unforgivable "mistake" pulled the tags away.
I'm sure it wasn't just the fact that they labeled the game like another well-established crossover fighting series from Nintendo that Playstation All-Stars has been unfavorably compared to… But also the overwhelmingly negative reception the video in question is receiving. Having said that, it seems Sony isn't displeased with the fact that people are comparing the two fighting games…
This is a screenshot of the tags within the trailer for Playstation All-Stars. You can clearly see the tags mentioned above in this image… Stay classy, Sony!!
Image Source: Joystiq