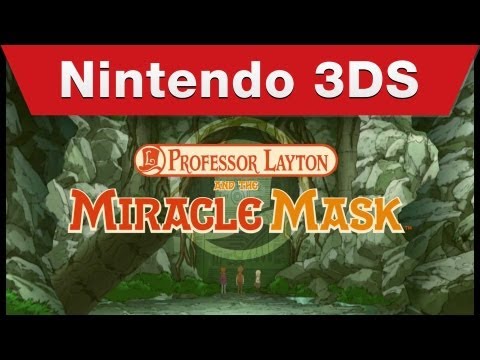 The Professor Layton games have been a huge success on the DS, and so a 3DS adventure was a no-brainer. This finally came to fruition when Level-5 released Professor Layton and the Miracle Mask as a launch title when the 3DS first hit Japan last year. Ever since then, fans have been clamoring to for an English release of the game. Well Nintendo has listened, and has announced that the game will be hitting US shores this November, while Europe will get it in October.
The first trailer can be found above, and while it only shows off the game's wonderfully animated cutscenes, Layton fans I'm sure will still be delighted. In addition to the news of localization, Nintendo also announced that the game will be receiving free downloadable puzzles to celebrate its launch. Players will get one new puzzle every day, for a whole year. A pretty sweet deal and one that will hopefully be incorporated into other 3DS games (New Super Mario Bros. 2 will have paid DLC).
Either way, free DLC or not, fans of the series will only have to wait a little while longer before they can once again get their puzzle fix.
Source: Nintendo Direct