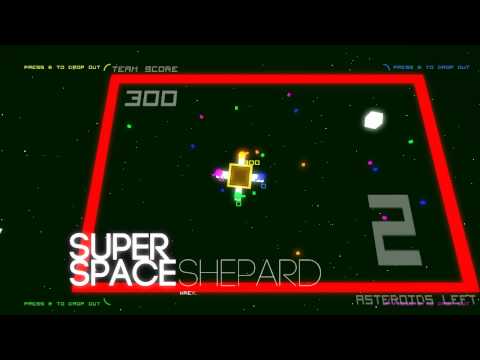 During our time at PAX Prime 2012 we saw a lot of small and independent games, and one of the most fun to play was definitely Super Space ____. This 4-player co-op arcade shooter just screams party game, bringing back many great memories of playing classics like Mario Party back in the day. If there was ever a co-op game that really requires absolute cooperation, this is it.
Designed by DigiPen students David Scamehorn and Alex Baard under the name Super Space Team, the game is best described by the following sentence:
"Super Space ____ is a couch co-op arcade shooter about competition, cooperation, communication and the democracy of physics."
In essence, you and up to three other players are in control of an oddly shaped ship in outer space and are constantly being bombarded by a never ending stream of asteroids. The twist is that the ship can only move by using the recoil from shots fired by the players. Too little shooting and you go nowhere, too much and you crash into the edge of the field and die gloriously. Players must work together, while at the same time compete for weapons and the highest score possible.
Super Space ____ has already won a couple of awards from the school it was made at, including Best Multiplayer and the Claude Comair Grand Prize: DigiPen Game of the Year Runner-Up at the DigiPen Game Awards 2012. But even bigger is the fact that the game has been selected as a finalist during the 2012 IndieCade Festival. Out of over 500 submissions, it made into the final 36 chosen games as of part of the "Night Games" category.
For more information on Super Space ____, check out the official site. Also expect an in-depth preview of the game on the site very soon.