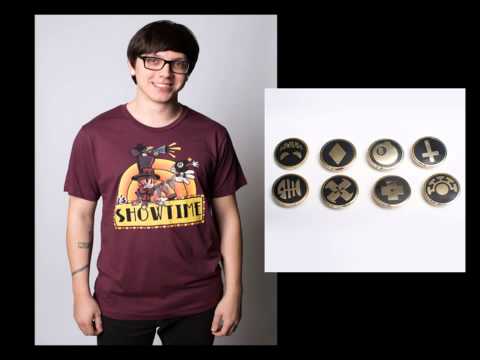 If you're not familiar with Yu-Gi-Oh: The Abridged Series, then shame on you! It's one of the funniest creations that has ever graced YouTube's servers and it single-handedly created an entire genre of anime parodies. The man behind it is a wonderful British chap that goes by the screen name of LittleKuriboh.
For awhile now he's been organizing various charity drives for a number of different causes like the Haiti Earthquake and the Japanese Tsunami. The latest is Card Games For Charity 6, where all the proceeds will go the unfortunate victims of Hurricane Sandy. The fundraiser will be different than previous ones in that it will be done live on Twitch.tv and will feature plenty of special guests, auctions, and children's card games.
Special guests include voice actors from League of Legends, Hellsing, Persona 4, Skullgirls, and Resident Evil 6. TeamFourStar, the guys behind Dragonball Z Abridged and others, will also be making a special appareance and will mark everyone with a special sign. Expect lots of rare Yu-Gi-Oh merchandise to auctioned off, as well other goodies like games and t-shirts. As a special treat, if they're able to raise $2,000, then LittleKuriboh will be forced to eat one of the spiciest bowls of ramen ever concocted in less than 30 minutes.
So if you're a child billionaire in charge of a huge gaming company and obviously having nothing better to do, then go check it out and help some folks who are in need. All proceeds will go directly to the American Red Cross and will help the many families suffering right now due to the storm.
The fundraiser will hosted on LittleKuriboh's Twitch.tv account on Saturday, December 8 and will run from 9 AM to 10 PM PST (12 PM-1:00 AM EST). The tentative schedule of events can be found below, but check here for all the latest information… IN AMERICA!
10:00 am to 11:00 am - Michelle Ann Dunphy (Persona 4/Heroes Of Newerth/K-On!) - CANCELLED DUE TO HEALTH REASONS
11:00 am to 12:00 pm - Erin Fitzgerald (Monster High/Skullgirls/Persona 4)
12:00 pm to 1:00 pm - Cast of Skullgirls & Squid Girl (Christine Cabanos, Cristina Vee, Danielle McRae, Xanthe Huynh)
1:00 pm to 2:00 pm - Laura Post (World Of Warcraft/League of Legends/Skullgirls)
2:00 pm to 3:00 pm - Kaiji Tang (Fist Of The North Star: Ken's Rage/Resident Evil 6/Dead Or Alive 5)
3:00 pm to 4:00 pm - Kristi Reed (Persona 4: The Animation/K-On!/Durarara!!)
4:00 pm to 5:00 pm - Kyle Hebert (Dragonball Z/Bleach/Naruto/Street Fighter 4)
5:00 pm to 6:00 pm - Taliesin Jaffe (Hellsing Ultimate OVAs) & Rachel Robinson (Final Fantasy XIII/Hellsing Ultimate OVAs)
7:00 pm to 7:30 pm - TeamFourStar (Dragonball Z Abridged/Hellsing Ultimate Abridged)
7:30 pm to 8:30 pm - Matt Mercer (Resident Evil 6/Thundercats/No More Heroes 2/Metal Gear Solid: Peace Walker)
8:30 pm to 9:30 pm - Charlotte Ann (Skullgirls)