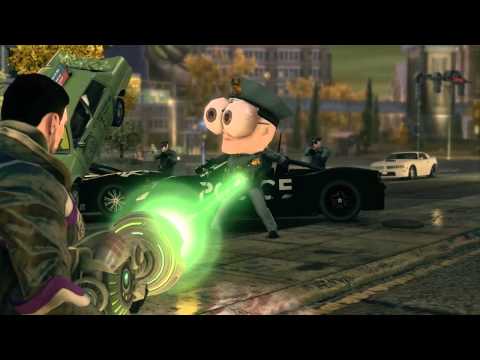 Get your oversized dildo-bats ready people because Saints Row IV is real and it's taking you "from the Crack House to the White House." Deep Silver announced the game yesterday and revealed an August 20 release date for North America, followed by a worldwide release on August 23. It will land on PS3, Xbox 360 and PC, but sadly the Wii U will be left out in the cold according to the publisher.
Deep Silver released the first teaser trailer for Saints Row IV along with the announcement, and it's absolutely bananas. The story for this new entry involves the lovable Third Street Saints getting involved in yet another crazy adventure. This time their leader gets elected president, but their party is cut short when aliens invade and trap them in some kind of Matrix-like computer simulation of their city.
This simulation finally gives the Saints the ability to break all the rules and reach the crazy levels of absurdity that they couldn't reach in Saints Row: The Third. It also looks a lot like the third game, as Saints Row IV was originally meant to be a big chunk of DLC which was turned into a full game. Regardless, it looks like it will be another great and zany adventure from Volition.