I completely skipped over 2012′s summer, fall and winter anime seasons for reasons unknown (actually, they're really boring reasons). As a result, I've got a bunch of anime series I'm currently following, which means plenty of reviews to come (hopefully not too far off). That being said, we here at Weeaboos with Controllers do intend to follow 2013′s anime seasons with a bit more dedication and fervor than last year's. This is no late April Fool's joke people. We will follow certain anime series which are airing within a couple of days of this article. And the spring anime of 2013 we will follow are… One question before we move on: What's with our obsession with A's?
Aiura
Aiura is an anime series based on a yonkoma (four panel comic) manga by Chama that centers around three high school girlfriends friends — Amaya, Iwasawa, and Uehara — and their inability to find anything interesting in their lives. Oh, they're self-proclaimed "annoying spirited high school girls with zero motivation." The lack of plot and offbeat characters surely reminds me of Lucky Star and Azumanga Daioh. The only difference now are the character designs which look strangely reminiscent of last year's Kokoro Connect. This adaptation of Aiura is written and directed by Ryosuke Nakamura (Nerawareta Gakuen), with character designs by Mieko Hosoi (Kaiji), and music by Shusei Murai (Allison & Lilia). Hosoi and Murai both also worked on Nerawareta Gakuen with director Nakamura. The teaser below screams randomness, and it's completely fitting for April Fool's Day. Aiura will begin transmission on April 10, 2013.
Featuring the following cast…
Tomokazu Sugita as Matsuno-sensei
Ayane Sakura as Ai Yanase
Yukari Tamura as Wakatsuki-sensei
Yumiri Hanamori as Sota Amaya
and the girls…
Yui Nakajima as Kanaka Amaya
Yuki Iida as Saki Iwasawa
Nao Tamura as Ayuko Uehara
Aku no Hana
Aku no Hana or The Flowers of Evil is an upcoming anime adaptation based on the manga of the same name by Shuzo Oshimi. Aku no Hana takes us into the life Takao Kasuga, a bookworm [creep] who one day decides to steal his secret crush Nanako Saeki's PE uniform. Another girl he despises [creep] by the name of Sawa Nakamura sees him committing the crime and decides to blackmail him. Either Kasuga enters a "contract" with her or she will tell on his secret. The main character Takao Kasuga is also fond of poet Charles Baudelaire's Les Fleurs du Mal (The Flowers of Evil), whence the title of the story is based on. There are quite a few interesting things to note about this anime. I haven't seen it, yet from what I've researched it is categorized as a drama/psychological/romance. The catch here is the "psychological" aspect of it. Judging from the video below that seems to be the most accurate genre this will fall into. Another thing is Aku no Hana's reminiscence to the anime Mushishi, which is a treat considering not many series can remind you of it. Having said that, it should be of no surprise considering the director of Mushishi Hiroshi Nagahama himself is directing this adaptation. Screenwriter Aki Itami who also worked on Mushishi will write this anime. Aku no Hana will premiere on April 5, 2013.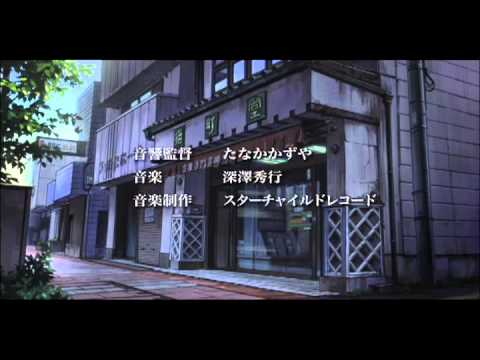 Featuring the voices of…
Mariya Ise as Sawa Nakamura
Yoko Hisaka as Nanako Saeki
Ayako Uemura as Ai Kinoshita
Katsutoshi Matsuzaki as Yamada
Sayuri Hara as Mayu
also featuring…
Shinichiro Ueda as Takao Kasuga
Attack on Titan
This adaptation of the manga by Hajime Isayama looks to maintain the same level of action and horror found in its source material. Attack on Titan [Shingeki no Kyojin] is set in a cruel world where humans have walled themselves within their cities in order to prevent further invasions from Titans. These Titans are colossal humanoid figures who feed on humans. Protagonist Eren Jaeger wants to join the Scouting Legion, the only group of humans allowed outside the city's walls in order research and fight against these creatures. From the looks of it Attack on Titan plans on maintaining a certain level of tragedy amongst its set pieces. The teaser looks so serious, that it reminds me of Berserk along with its character designs. The staff involved looks promising as well. Tetsuro Araki (Death Note, High School of the Dead) is directing, while Yasuko Kobayashi (Shakugan no Shana, JoJo's Bizarre Adventure) is writing the screenplay, and it is also a joint production between Wit Studio and Production I.G. There is also a live action feature being directed by Tetsuya Nakashima, of Kamikaze Girls fame in the works. Attack on Titan is set to air on April 7, 2013.
And the voice cast includes…
Yūki Kaji as Eren Jaeger
Marina Inoue as Armin Arlelt
Hiro Shimono as Conny Springer
Daisuke Ono as Erwin
Hiroshi Kamiya as Levi
Romi Park as Hanji
and featuring…
Yui Ishikawa as Mikasa Ackerman
I can't deny that the anime I look forward to the most is Aku no Hana. Nothing against the other two, but the combination of talent found in it is pretty damn good, if I do say so myself. Besides, that itty bitty teaser did the literal… tease the hell out of its audiences. Also, Aku no Hana looks like it's the toughest of the three to categorize. I remember that Mushishi was just like that years ago. Personal preferences aside, I will do a preview of all of these just like I did with 2012′s spring anime. I will try my best for them not to be too behind schedule. We're also gonna discuss these series on the podcast. Last but not least, we were thinking of alternating between these and other series depending on just how much we end up appreciating these selected three. In other words, if we loathe one or all, we will drop it or them and move on to something else. We were thinking of three in particular… The "Hentai" Prince and the Stony Cat. [Hentai Ouji Warawanai Neko.], Valvrave the Liberator, and Space Battleship Yamato 2199.
Which series are you looking forward to the most?
Note: I stumbled upon the following video which is from renowned studio Kyoto Animation… I'm not even going to bother to describe it, however, many people are yearning for a release date on this. This is where the opening and slider image is from.