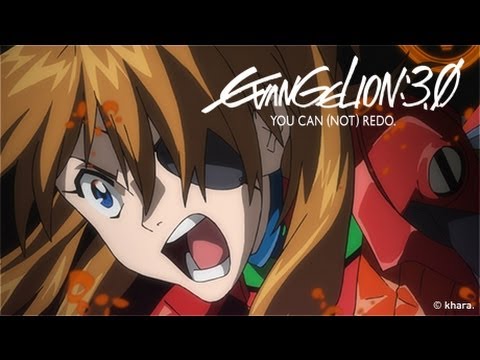 Evangelion 3.0 You Can (Not) Redo or Q Quickening is the latest film in the Rebuild of Evangelion film series that is rebooting one of the most notoriously acclaimed anime ever. After a successful run in Japanese theaters — grossing more than $59m, and having earned the number 2 spot in box office receipts in Japan — Evangelion 3.0 will finally debut on Blu-ray and DVD next Wednesday in Japan. The film (like the others) has been renamed "Evangelion 3.33 You Can (Not) Redo" for its Blu-ray/DVD release.
This home video release will include the feature film, and a short titled Kyoshinhei Tokyo ni Arawaru [Giant God Warrior Appears in Tokyo] directed by Hideaki Anno. If you hurry and pre-order or pick this up on release, you might be one of the few lucky ones to get a copy of the OST with the film's theme song "Sakura Nagashi" by Hikaru Utada. Each copy will also come in special packaging and feature a 66 page booklet.
And just for the hell of it… to those who still haven't seen the movie (like me) and are patiently waiting for it to get localized here in North America, let us recall that heart-stopping  28 second preview played after the credits of Evangelion 2.0. The trailer above looks even more astonishing, albeit different than the teaser below. Rebuild of Evangelion is spearheaded by Anno alright.
Source: NicoTubeAnime via ANN