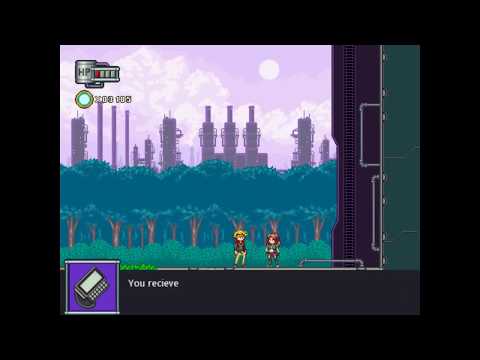 Industrious Flair is an indie 2D side-scroller/platformer currently in development by Neon Leaf for the PC. Formerly known as Fallen Leaf, the game has come a long way since we first saw it last year. It's been completely revamped and features brand new sprite graphics, new characters, story and mechanics. Even so, it still retains the flavor of the original incarnation, which feels like Mega Man with RPG elements like towns and side quests.
If this sounds like something you'd like to try, then now is your chance. Neon Leaf recently released their first demo of Industrious Flair, and you can download it right here. It allows you to play through the beginning section of the game, get a feel for the controls, and experience a small taste of the story. It's pretty fun and not too difficult, plus you'll get a "special surprise" if you can make it all the way to the end.
So far I like what I see in Industrious Flair. It has tight controls (I recommend playing with a gamepad for that retro feel), well done visuals, and the chiptune soundtrack is still just as awesome as ever. So go give the demo a try and make sure to follow the Neon Leaf development blog for more updates on the game.
Source: Neon Leaf